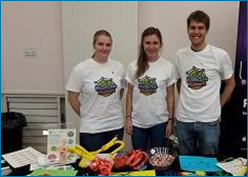 We run a wide range of different Public Engagement and Education events and are always on the lookout for talented and enthusiastic people to volunteer their time and to communicate their work to the public.
If you'd be willing to be contacted about potential volunteering opportunities (with no commitment), email our Education Team to be added to our list of volunteers.
For volunteers, there are a number of different opportunities:
Public talks: We arrange a number of public talks and debates. If you'd be willing to be contacted as a potential speaker, or would like to arrange a talk yourself, please get in touch using the details above.
Science festivals and events: If you'd like to come along and join in with one of our public engagement activities at regional science festivals and other events, let us know and we'll add you to our list of volunteers.
Organize your own event: If you're organizing your own public engagement event and would like to have a chat about it, send us an email and we'll do what we can to help out. There is also funding available via our Outreach grants scheme.